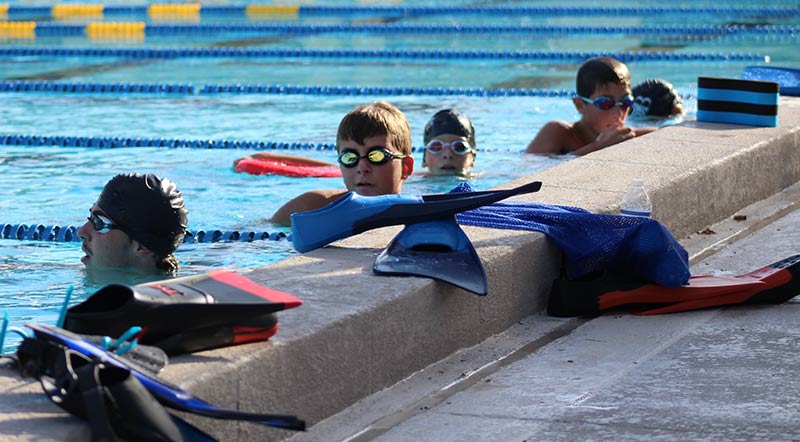 WE WANT TO ENTER TEAM BRAVO. WHAT IS OUR FIRST STEP?
Your first step is to sign up for a Team Evaluation. Evaluations last about 15 minutes and are used to determine your swimmer's group placement. Once the evaluation is complete, you will receive a group placement email with team registration instructions.
WHO CAN JOIN?
Swimmers aged 6-18 can try out.
Potential members of my team need to complete our level 5 requirements and:
Demonstrate proper technique in all 4 strokes.
Can swim 100 yards freestyle, backstroke. breaststroke and 50 yards butterfly.
Can dive from sitting position.

HOW MUCH DOES IT COST?
The registration fee is a payment of $150 per year, which includes all Team and individual athletes' registrations with USA Swimming. In addition to this, upon joining the team there is one time registration fee of $70.00. You will get two T shirts and two caps.
Team BRAVO: $180 a month
BRAVO JR: $165 a month
Nonresidents*: $240 a month
*Nonresidents are not registered with our teams and/or are swimming less than four times a week.
All fees are due by the 5th of each month.
Late Fee: A fee of $29.00 will be added to the account if the account is carrying an invoice balance (not fully paid) by the 3rd at 12 am of the billing cycle.
Reactivation Fee: $50.00 

Sibling's discounts for multiple kids' families are:
Second kid is $20 off.
Third kid is $30 off.
Fourth kid or more is $50 off.
Parents who will be willing to become volunteer officials get another 10% discount off monthly total tuition.
Leave of absence: Any Bravo swimmers that decide to take a month (or more) off, with intention of returning to Bravo Swim Team, may take a "Leave of Absence". This leave needs to be communicated with your coaches before the 25th of the month prior to avoid being billed for the time you are gone.
***Once an invoice has been generated for the following month, because the coaching staff was not informed of the planned time off, the invoice must be paid regardless of the number of days the swimmer attended practice.
ARE THERE ANY OTHER TEAM REQUIREMENTS?
Parent Volunteering
The coach-owner runs the swim club as a business. However, it is likely that the coach will still need volunteers to perform several functions to help the team run smoothly. Think for a moment about all the functions that accompany running a swim team. When the team is small, in the beginning, it may be possible to do it all, but as the team grows, more help may be needed. This is where parent volunteers can be a big help.
Some of the jobs that parents can do include:
Running swim meets. This includes all aspects of the meet from signing up volunteers, to setting up and cleaning up on the day of the meet, to running concession and hospitality stands, to officiating and cleaning up the administrative details at the conclusion of the meet.
Social events. All teams benefit from social interaction among swimmers and among parents. Parent volunteers can oversee events such as team picnics, end of the season banquets and holiday parties.
Fundraising. If fundraising is necessary for the team, parents can oversee fundraising efforts.
Communication. Parents can handle communication such as phone trees, publishing and distributing newsletters (with information provided by the coach), maintaining the web site and updating bulletin boards (with information provided by the coach.)
Equipment. Parents can be charged with ordering and disbursing equipment such as team attire and team suits.
Team Travel. Parents can not only help to plan team travel (hotel rooms, rental cars, buses, airline travel) but they are also invaluable as chaperones and meal planners.
Publicity. Parents can handle publicity for the team. Look particularly for a parent with good connections in the community.
There may be other jobs that parents can perform. This does not mean the coach-owner has no responsibility. In fact, exactly the opposite is true. The coach-owner needs to oversee all the above operations and delegate responsibility.
I HAVE AN ACCOUNT/BILLING QUESTION. WHO DO I CONTACT?
For questions about your account, billing, or other administrative topics, please contact us.